So I've recently entered the "Domesticity of Justin" chapter. The other day I was
"cooking" dinner with my girlfriend and I decided we're going to listen to some jazz. This is because obviously I'm 58 years old. Miles Davis' Kind of Blue kicked this night off. Then I transition to some of my old favorites that I used to listen to when I was heavy into jazz. This morning at work, I wanted to create a playlist of a bunch of this music and just have a nostalgia boner while I worked. Melody Gardot, Jamie Cullum, Avishai Cohen, Kneebody and more fill up this playlist. I wanted to add some tunes from the Grammy winning album Stanley Clarke Band. Ronald Bruner Jr anchors this album but I remember that he released an album of his own. Ignoring the extensive playlist I just created, I dive into Triumph.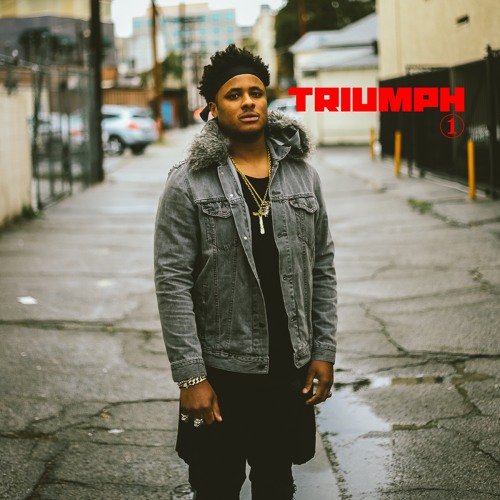 Ronald has been a mainstay in the jazz world for years. His brother, acclaimed musician and documented weirdo, Thundercat has also been killing it as well. Ronald Bruner Jr. is better than your favorite drummer. He can LITERALLY play any style but is known for his immense speed and power. He's so good that when listing favorites he is oft forgotten about until mentioned and then the "Oh, well duh" and "Yeah, of course" phrases come out. He's so good, it's unfair and it makes me want to practice and retire at the same time. Now, history denotes that drummers usually can't/don't make good albums. It's a fact, sorry. Many times the music is just a basic foundation for the drummer to just go crazy. Elementary musical ideas with drumming brilliance. It gets old.
Triumph ain't that.
This is a well made project with engaging ideas and masterful musicianship. Ronald sets the tone early though; displaying sheer skill and command of his instrument in the first ten seconds of the album. He's here to show off. The first track, "True Story," is a driving, inspirational number that is interlaced with ridiculous drum fills. I'm impressed because I'm just such a fan but a seed of doubt is sewn because if he just loses his mind on each track it will get indulgent real fast and that would be disappointing. "Take The Time" features his brother Thundercat and begins with a groovy riff with busy drums behind them. It reminds me of Mark Guiliana's work on David Bowie's Blackstar. Bruner's skill is once again on display while the guitars just calmly sit over top as a welcome juxtaposition. "She'll Be Back" and "One Night" are more in line with a good chunk of the album. Neo-soul, R&B, jazz, and hip-hop elements all fuse together for several mid tempo offerings that fill out the track listing.
Most of the instrumentation is live because Ronald definitely has access to incredible players. There are some absolutely absurd solos sprinkled throughout Triumph. In another review I mentioned how nobody was going for blood in the moments they have…not the case here. There are lengthy fusion instrumentals that allow musicians to stretch out and they take full advantage. This include solos from Bruner himself that are just confounding. Like…what do you even do? How is that even fair?
There are some moments that dip into a more electric pool. "Doesn't Matter" has electric drums and its hypnotizing synth makes for a very cool track. "To You/For You" is two completely different songs with the last two minutes being this hard-hitting, super produced rap song. It's weird but whatever, if he wants to make beats and rap on his own album he can. Unfortunately, it is by far the weakest moment on the entire album.
That one instance of rapping is a good segue into the vocals on Triumph. There are not a ton of features on this project which means with the exception of Mac Miller, Danielle Withers and what I would assume some vocals from lil bro, Ronald is doing all the singing. Bruner has a really nice voice. At some points it sounds A LOT like Usher and his rhythms and melodies are cool enough to keep you invested. He uses layers and background vocals quite well to create full sounding singing parts. He stays in his bag and times he seems to push his voice it feels like it is on purpose to convey emotion.
I enjoyed Triumph but I could say that maybe it's two albums in one. One is this R&B, soul  sometimes poppy project while this other is a modern jazz/fusion masterclass. They fuse together into an album that I enjoy thoroughly with my admittedly rose colored glasses.
Peep the album here: